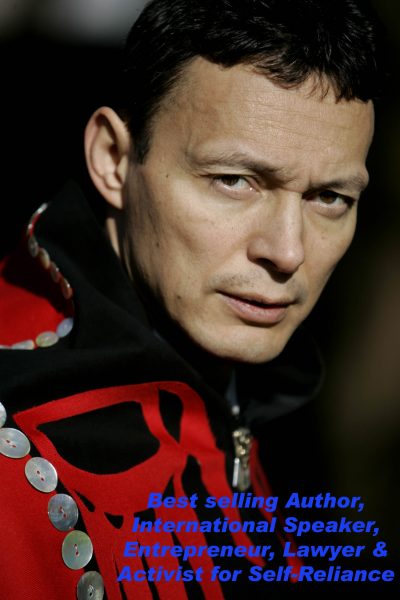 Calvin Helin
entrepreneur, lawyer, and best-selling author
Calvin Helin, a member of the Tsimshian Nation, comes from the community of Lax Kw'alaams on the Northwest coast of British Columbia, Canada. The son of a hereditary chief, Helin is an entrepreneur, lawyer, and best-selling author.
For 2015 and 2016 Helinwas named one of Canada's most powerful business people by Canadian Business Magazine and in 2017 was named by Vancouver Magazine in top fifty most powerful people in the city. His commercial endeavours include the Eagle Group of Companies, he is involved in major real estate developments, and is associate counsel with the law firm Stewart, Aulinger & Company. He is Chairman and President of Eagle Spirit Energy Holdings, Ltd., a First Nations-led company looking to build an energy corridor through northern B.C. and Alberta. He is former President of the Native Investment and Trade Association and held directorships on the Vancouver Board of Trade (where he chaired the newly formed Aboriginal Opportunities Committee), GeoScience BC, and the Canada–China Resource Development Foundation. In addition to numerous national and regional distinctions, he has received top "40 Under 40" awards for British Columbia and for Canada nationally. He has served as chairman for several past Aboriginal trade delegations to China and New Zealand, introducing an innovative business model to promote long-term benefits for indigenous people from natural resource development. He is also active in social media with over 1.7 million Twitter followers on his verified account.
Mr. Helin has written several publications on law, Aboriginal business, and associated issues. He has developed an international reputation through his now seven times best-selling book, Dances with Dependency: Out of Poverty through Self-Reliance. His second book The Economic Dependency Trap: Breaking Free to Self-Reliance was recognized as a finalist in the 2011 U.S.A. Best Books awards and won the Gold Medal at the IPPY Awards (America's 2012 Independent Publisher Book Awards). His third book The Empowerment Mindset: Success through Self-Knowledge was released in 2012 and also received several awards. His title Dances with Spirits: Ancient Wisdom for a Modern World was released worldwide in May 2014 and has already won the Living Now Book Award silver medal in the area of social activism/charity. His new book Dances with Development: Making Good Money from Natural Resources will be released in 2018. As the result of his writing, Mr. Helin has an expanding international role as a popular public speaker and thought leader. His common sense message of self-reliance and self-responsibility are now being promoted on a global platform.
Helin also serves as an ambassador for SOS Children's Village B.C., a non-profit providing a safe foster care environment for the most vulnerable children, and is a member of the Advisory Council of the prestigious think tank, the MacDonald-Laurier Institute. As a fourth degree black belt he instructs at the Shudokan Karate and Education Society, a group he founded in 2002 that provides free martial arts lessons to disadvantaged inner-city children as a way of teaching them discipline, manners, self-respect, and other important life lessons. Mr. Helin is remarried, has three grown children, and a grandson, and two step children.